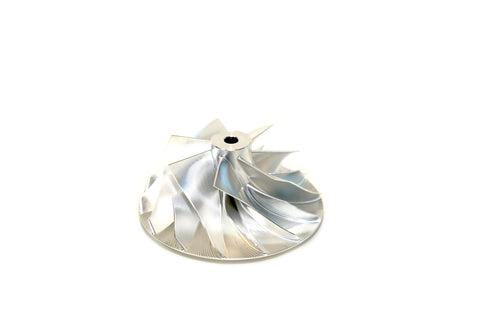 Holset HE351VE Turbo Billet Compressor Wheel (R8048234AI)
Application: Ram Diesel Truck
Model Year: 2007.5 - 2012
SKU: 823-2665-002
Caution!!! Read below before purchase: 
Although the actual turbo rebuilding process is very simple, please BE AWARE that recalibration of the VGT control module might be needed during the rebuilding process. 
Replacement billet compressor wheel for 2007.5 - 2012 Ram 3500, 4500, 5500 cab & chassis turbo. 
Also Fits:
68003401AA, 68027068AA, 68031095AA 68032290AA, 68032290AB, 68032290AC, 68048234AA, 68048234AB, 68048234AC, 68048234AD, 68048234AE, 68048234AF, 68048234AG, R8048234AE, R8048234AF, R8048234AG, R8048234AH
This compressor wheel is balanced so it is ready to be used right out of the packaging.
***Important Note***
There is no warranty, instructions, or tech support on any DIY products.
Click here for details.
---
We Also Recommend